Formulación y caracterización de materiales compuestos integrados por una matriz de caucho estireno-butadieno (SBR) reforzada con nanoarcilla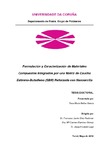 Title
Formulación y caracterización de materiales compuestos integrados por una matriz de caucho estireno-butadieno (SBR) reforzada con nanoarcilla
Author(s)
Directors
Díez Redondo, Francisco Javier
Ramírez Gómez, María Carmen
López Lago, Joaquín

Date
2012
Center/Dept./Entity
Universidade da Coruña. Departamento de Física
Abstract
[Resumen] Este trabajo se basa en el desarrollo de nanocompuestos de caucho estireno-butadieno (SBR) a través de mezclado en fundido. Los nanocompuestos se han preparado mediante la adición de un silicato laminar de tipo montmorillonita a la matriz elastomérica. El principal objetivo es mejorar las propiedades mecánicas, térmicas y de resistencia frente al envejecimiento a través de la adición de una baja proporción de refuerzo. Se estudió la morfología de los composites con objeto de entender las propiedades finales de estos materiales. En los nanocompuestos, las partículas se dispersaron formando estructuras intercaladas (tactoides) con algunas laminillas exfoliadas. El estudio de la interacción entre el SBR y la nanoarcilla mediante espectroscopia infrarroja reveló que las interacciones en la interfase son de tipo físico. La incorporación de la nanoarcilla mejoró sensiblemente las propiedades mecánicas del material sin una disminución en la deformación a la rotura y mejoró la estabilidad térmica. Estas mejoras están relacionadas con el nivel de dispersión de la nanoarcilla en la matriz. Sin embargo, los nanocompuestos mostraron una escasa resistencia frente al envejecimiento termooxidativo. Con la adición de un antioxidante fenólico a la mezcla la resistencia al envejecimiento de los nanocompuesto mejoró notablemente.
[Resumo] Este traballo baséase no desenvolvemento de nanocompostos de caucho estireno-butadieno (SBR) a través de mesturado en fundido. Os nanocompostos preparáronse mediante a adición dun silicato laminar de tipo montmorillonita á matriz elastomérica. O principal obxectivo é mellorar as propiedades mecánicas, térmicas e de resistencia fronte ao envellecemento a través da adición dunha baixa proporción de reforzo. Estudouse a morfoloxía dos composites co obxecto de entender as propiedades finais destes materiais. Nos nanocompostos, as partículas dispersáronse formando estruturas intercaladas (tactoides) con algunhas laminiñas exfoliadas. O estudo da interacción entre o SBR e a nanoarxila mediante espectroscopia infravermella revelou que as interaccións na interfase son de tipo físico. A incorporación da nanoarxila aumentou sensiblemente as propiedades mecánicas do material sen unha diminución na deformación á rotura e mellorou a estabilidade térmica. Estas melloras están relacionadas co nivel de dispersión da nanoarxila na matriz. Non obstante, os nanocompostos mostraron un pobre comportamento fronte ao envellecemento termooxidativo. Coa adición á mestura dun antioxidante fenólico mellorou de forma importante a resistencia ao envellecemento dos nanocompostos.
[Abstract] This work is focused on the development of styrene-butadiene rubber (SBR) produced by melt blending. Nanocomposites have been prepared by addition of montmorillonite type silicate to the elastomeric matrix. The main objective is to improve the mechanical and thermal properties as well as the aging resistance by adding low loading of reinforcement. The morphology of the composites was studied in order to understand the final properties of these materials. The nanocomposites showed a hybrid structure with intercalated structures (tactoids) and some exfoliated platelets. The interactions between SBR matrix and nanofiller were studied by infrared spectroscopy. No evidence for the formation of new components was found that suggests the interface interactions were of physical nature. Nanoclay addition significantly improved the mechanical properties without loss of elongation at break and also increased thermal stability. These improvements are related to the uniform dispersion of the nanoclay in the rubber matrix. However, nanocomposites showed a poor behaviour against thermooxidative aging. Aging resistance was significantly improved by adding a phenolic antioxidant to the nanocomposite.
Keywords
Materiales nanocompuestos
Rights
Os titulares dos dereitos de propiedade intelectual autorizan a visualización do contido desta tese a través de Internet, así como a súa reproducción, gravación en soporte informático ou impresión para o seu uso privado e/ou con fins de estudo e de investigación. En nengún caso se permite o uso lucrativo deste documento. Estos dereitos afectan tanto ó resumo da tese como o seu contido Los titulares de los derechos de propiedad intelectual autorizan la visualización del contenido de esta tesis a través de Internet, así como su repoducción, grabación en soporte informático o impresión para su uso privado o con fines de investigación. En ningún caso se permite el uso lucrativo de este documento. Estos derechos afectan tanto al resumen de la tesis como a su contenido