Una formulación numérica sin malla basada en los métodos SPH con ponderación de Galerkin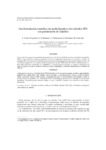 View/Open
Title
Una formulación numérica sin malla basada en los métodos SPH con ponderación de Galerkin
Author(s)
Date
2005
Abstract
[Resumen] En este artículo se propone una formulación numérica sin malla de tipo Galerkin basada en el método de partículas SPH con aproximación de mínimos cuadrados móviles y su aplicación a problemas de mecánica de fluidos con superficie libre. El esquema de Galerkin proporciona una metodología general que permite analizar muchos de los métodos propuestos en el ámbito de las formulaciones de tipo SPH (Smoothed Particle Hydrodynamics) y desarrollar algoritmos consistentes. La viabilidad de la metodología sin malla que se propone se demuestra con varios ejemplos en los que se analizan fenómenos de gran complejidad o con fuertes distorsiones en el dominio de solución. In this paper we propose a Galerkin based SPH formulation with moving least squares meshless approximation, applied to free surface flows. The Galerkin scheme provides a clear framework to analyze several procedures widely used in the classical SPH literature, suggesting that some of them should be reformulated in order to develop consistent algorithms. The performance of the methodology proposed is tested through various dynamic simulations, demonstrating the attractive ability of particle methods to handle severe distortions and complex phenomena.
Keywords
Mecánica de fluidos
Métodos sin malla
Métodos SPH
Flujo de fluídos en superficie libre
Método de Galerkin
Description
Enviado a "Revista internacional de métodos numéricos para cálculo y diseño en ingeniería"