El casco de Hades y la independencia judicial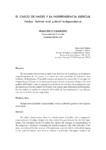 Non accesible ata 2024-01-01

A non ser que se indique outra cousa, a licenza do ítem descríbese como Creative Commons Reconocimiento-No comercial-Sin obra derivada 4.0 Internacional
Coleccións
Título
El casco de Hades y la independencia judicial
Título(s) alternativo(s)
Hades' helmet and judicial independence
Autor(es)
Data
2022
Cita bibliográfica
Caamaño, F. (2022). El casco de Hades y la independencia judicial. Revista de Estudios Políticos, 198, 69-91.
Resumo
[Resumen] En las actuales democracias se aprecia un deterioro de la política y un progresivo empoderamiento de los jueces. Los jueces no solo controlan al Gobierno, sino también a la legislatura. El modelo europeo de justicia ha convertido el concepto de independencia del juez en un instrumento para reforzar su posición frente a los otros poderes del Estado, como lo prueba la creación de los consejos de la judicatura, que sin pertenecer al poder judicial del Estado, han nacido para defenderlo políticamente. En este trabajo se analiza la evolución del modelo de juez-funcionario y sus diferencias con el modelo de juez anglosajón.
[Abstract] In today´s democracies, there is a deterioration of politics and a progressive empowerment of judges. Judges not only control the government but also the legislature. The European model of justice has turned the concept of independence of the judge into a weapon to strengthen its position respect to the other branches of the state, as evidenced by the creation of the judiciary councils which, without belonging to the judicial branch, were born to defend it politically. This paper analyzes the evolution of the functionary-judge model and its differences with the Anglo-Saxon judiciary model.
Palabras chave
Independencia judicial
Imparcialidad
Consejos judiciales
Gobierno de los jueces
Democracia
Judicial independence
Impartiality
judicial councils
government of judges
Democracy
Versión do editor
Dereitos
Creative Commons Reconocimiento-No comercial-Sin obra derivada 4.0 Internacional
ISSN
1989-0613