Aplicación de métodos de procesado digital de imagen para la realización automatizada de medidas en imagen médica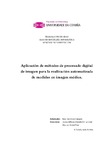 Except where otherwise noted, this item's license is described as Atribución-NoComercial-SinDerivadas 3.0 España
Collections
Title
Aplicación de métodos de procesado digital de imagen para la realización automatizada de medidas en imagen médica
Author(s)
Directors
Dorado, Julián
Gestal, M.

Date
2021
Center/Dept./Entity
Universidade da Coruña. Facultade de Informática
Description
Traballo fin de grao (UDC.FIC). Enxeñaría Informática. Curso 2020/2021
Abstract
[Resumen]: El procesado digital de imagen es un campo que ha experimentado un gran crecimiento en los últimos años, estando ya presente en diferentes aspectos de nuestra vida cotidiana. Un ejemplo sería el ámbito médico, donde ya se empiezan a utilizar herramientas de diagnóstico automatizado a partir de imágenes. Estos sistemas de procesado se componen de diferentes etapas, siguiendo una serie de pasos que permiten extraer la información de interés en la imagen. Con esta información de interés y con el apoyo en una base de conocimiento, el sistema sería capaz de calcular unas conclusiones y mostrarlas al usuario. El propósito de este trabajo consiste en desarrollar una herramienta de procesado digital de imagen en diferentes etapas que trabaje sobre imagen médica. El sistema creado proporcionará asistencia a un médico, realizando mediciones sobre dos imágenes de una rodilla. El objetivo es automatizar la tarea de la toma de medidas de la Tuberosidad Tibial Anterior - Garganta de la Tróclea, habitualmente realizada de forma manual, ahorrando tiempo de trabajo al personal médico.
[Abstract]: Digital image processing is a field which has experienced a great growth in the last years, taking part in different aspects of our daily lives. An example would be the medical area, where automated diagnostic tools using images are already beginning to be used. These processing systems are made up of different stages, following a series of steps that allow the extraction of the information of interest of an image. With this information of interest and with the support of a knowledge base, the system would be able to calculate some conclusions and show them to the user. The purpose of this project is to develop an image processing tool composed of different stages that works on medical image. The created system will provide assistance to a doctor, taking meassurements on two images of a knee. The objective is to automate the task of meassuring the Tibial Tuberosity - Trochlear Groove distance, usually carried out manually, saving work time for medical staff.
Keywords
Procesado digital de imagen
Medición automatizada
Imagen médica
Tuberosidad Anterior de la Tibia
Garganta de la Tróclea
ImageJ
Digital image processing
Automated measurement
Medical image
Tibial Tuberosit
Trochlear Groove
Rights
Atribución-NoComercial-SinDerivadas 3.0 España