Succinct Data Structures in the Realm of GIS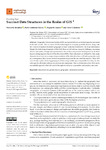 Collections
Title
Succinct Data Structures in the Realm of GIS
Author(s)
Date
2021
Citation
Brisaboa, N.R.; Gutiérrez-Asorey, P.; Luaces, M.R.; Rodeiro, T.V. Succinct Data Structures in the Realm of GIS. Eng. Proc. 2021, 7, 29. https://doi.org/10.3390/engproc2021007029
Abstract
[Abstract] Geographic Information Systems (GIS) have spread all over our technological environment in the last decade. The inclusion of GPS technologies in everyday portable devices along with the creation of massive shareable geographical data banks has boosted the rise of geoinformatics. Despite the technological maturity of this field, there are still relevant research challenges concerning efficient information storage and representation. One of the most powerful techniques to tackle these issues is designing new Succinct Data Structures (SDS). These structures are defined by three main characteristics: they use a compact representation of the data, they have self-index properties and, as a consequence, they do not need decompression to process the enclosed information. Thus, SDS are not only capable of storing geographical data using as little space as possible, but they can also solve queries efficiently without any previous decompression. This work introduces how SDS can be successfully applied in the GIS context through several novel approaches and practical use cases.
Keywords
Data structures
Geoinformatics
Geographic information systems
Description
Presented at the 4th XoveTIC Conference, A Coruña, Spain, 7–8 October 2021.
Editor version
Rights
Atribución 4.0 Internacional