Estudio conceptual térmico y acústico de materiales para uso como núcleo de mamparos tipo sandwich para la construcción naval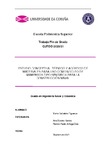 Collections
Title
Estudio conceptual térmico y acústico de materiales para uso como núcleo de mamparos tipo sandwich para la construcción naval
Author(s)
Directors
Álvarez García, Ana
Artiaga, Ramón

Date
2021-09
Description
Traballo Fin de Grao (UDC. EPS). Ingeniería Naval y Oceánica (Curso 2020/2021)
Abstract
Resumen: El sector de la construcción naval es un sector estratégico en Galicia, que busca diferenciarse del resto del mundo aportando ideas innovadoras y disruptivas. Para alcanzar este concepto de innovación, se va a intentar aportar un pequeño grano de arena. En este trabajo se estudian térmica y acústicamente unas configuraciones de mamparos tipo sándwich diseñados con el objetivo de mejorar el aislamiento acústico, reducir el peso del buque y, por tanto, el consumo de combustible y la contaminación que se emite a la atmósfera. Para el estudio acústico se ha diseñado y fabricado un aparato de onda estacionaria con el que se determina el coeficiente de absorción. Para el estudio térmico se realizan dos análisis, uno termogravimétrico y otro de comportamiento al fuego. Además, con el objeto de cumplir los requerimientos al fuego específicos para el sector naval se ha creado una cámara de propagación de llama.
Resumo: O sector da construción naval é un sector estratéxico en Galicia, que busca diferenciarse do resto do mundo aportando ideas innovadoras e disruptivas. Para acadar este concepto de innovación, intentaremos aportar un pequeno gran de area. Neste traballo, estudamos térmica e acústicamente algunhas configuracións de mamparas tipo sándwich deseñadas co obxectivo de mellorar o illamento acústico, reducir o peso do buque e, polo tanto, o consumo de combustible e a contaminación que se emite á atmosfera. Para o estudo acústico deseñouse e fabricouse un aparello de ondas estacionarias co que se determina o coeficiente de absorción. Para o estudo térmico realízanse dúas análises, unha termogravimétrica e outra de comportamento ao lume. Ademais, para cumprir os requisitos específicos de incendios para o sector naval, creouse unha cámara de propagación da chama.
Abstract: The shipbuilding sector is a strategic sector in Galicia, which seeks to differentiate itself from the rest of the world by providing innovative and disruptive ideas. To achieve this concept of innovation, we are going to try to contribute a small grain of sand. In this work, we study thermally and acoustically some sandwich-type bulkhead configurations designed with the aim of improving acoustic isolation, reducing the weight of the ship and, therefore, fuel consumption and the pollution that is emitted into the atmosphere. For the acoustic study, a standing wave apparatus has been designed and manufactured with which the absorption coefficient is determined. For the thermal study, two analyzes are carried out, one thermogravimetric and the other of behavior to fire. In addition, in order to meet the specific fire requirements for the naval sector, a flame propagation chamber has been created.
Keywords
Construcción naval - Aparatos y materiales
Mamparos (Arquitectura naval)
Rights
Os titulares dos dereitos de propiedade intelectual autorizan a visualización do contido deste traballo a través de Internet, así como a súa reproducción, gravación en soporte informático ou impresión para o seu uso privado e/ou con fins de estudo e de investigación. En nengún caso se permite o uso lucrativo deste documento. Estos dereitos afectan tanto ó resumo do traballo como o seu contido Los titulares de los derechos de propiedad intelectual autorizan la visualización del contenido de este trabajo a través de Internet, así como su repoducción, grabación en soporte informático o impresión para su uso privado o con fines de investigación. En ningún caso se permite el uso lucrativo de este documento. Estos derechos afectan tanto al resumen del trabajo como a su contenido