Credibilidad en la prensa online: estrategia para la diferenciación y generación de audiencias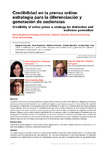 Title
Credibilidad en la prensa online: estrategia para la diferenciación y generación de audiencias
Alternative Title(s)
Credibility of Online Press: A Strategy for Distinction and Audience Generation
Date
2020
Citation
Rodríguez-Fernández, María-Magdalena; Martínez-Fernández, Valentín-Alejandro; Juanatey-Boga, Óscar (2020). "Credibilidad en la prensa online: estrategia para la diferenciación y generación de audiencias". Profesional de la información, v. 29, n. 6, e290631. https://doi.org/10.3145/epi.2020.nov.31
Abstract
[Resumen] En el sector de las publicaciones periódicas en papel, donde la prensa ha sido la más afectada, la digitalización ha generado importantes transformaciones en sus modelos de negocio, lo que ha propiciado, por un lado, la migración digital de las cabeceras tradicionales en la búsqueda inicial de una hibridación y, por otro, la incorporación de nuevas cabeceras nativas digitales. Ante esta situación la credibilidad se erige como un factor relevante en el momento de seleccionar cabeceras para informarse. En este sentido, en lo que a prensa online se refiere, se plantean dos objetivos: analizar qué factores influyen y sobre cuáles incide la credibilidad de una cabecera online. La metodología se fundamenta en una investigación cuantitativa, basada en la realización de encuestas a jóvenes universitarios y el empleo de un modelo de ecuaciones estructurales. Las conclusiones evidencian que la cobertura es la principal variable en la generación de credibilidad y ésta a su vez contribuye a la percepción en el lector de una mayor confianza, precisión y simpatía.
[Abstract] The regular paper publications sector has implemented significant business model transformations to embrace digitalization, with the press being the most affected of all. This has contributed not only to the migration of traditional mastheads to a digital format, in search of a hybridization process, but also to the development of new digital brands. In these circumstances, credibility emerges as a critical factor to consider when selecting sources of information. Along these lines and with regards to the online press, two research objectives arise: to analyze which factors can influence, and which factors are influenced by, the credibility of an online masthead. The methodology used in this study is based on quantitative research using surveys conducted with university students and structural equation modeling. The main conclusions demonstrate that coverage is the main variable in terms of generating credibility and that this also contributes to reader perception regarding greater confidence, accuracy, and sympathy.
Keywords
Credibilidad
Medios digitales
Prensa online
Prensa digital
Diarios
Periodismo digital
Cabeceras
Dimensiones
Universitarios gallegos
Encuestas
Ecuaciones estructurales
Credibility
Digital media
Online press
Digital press
Newspapers
Digital journalism
Publications
Dimensions
Galician university students
Surveys
Structural equation modeling
Editor version
Rights
EPI da autorización para que los autores de los trabajos publicados en la revista puedan ofrecer en sus webs (personales o corporativos) o en cualquier repositorio de acceso abierto (OA) una copia de esos trabajos una vez hayan transcurrido 6 meses desde su publicación
ISSN
1699-2407
Related items
Showing items related by title, author, creator and subject.
Sanz Larruga, Javier

;

Requejo Zalama, Javier

;

Pillado Quintáns, Sabela

;

Quiroga Barro, Gabriel

;

Penteado, Pedro

;

Cruz Mundet, José Ramón

;

Díez Carrera, Carmen

;

Fernández Carrasco, José Ángel

;

Rabionet i Jansen, Raül

;

Sanyer i Gonzàlez, Mònica

;

Manero Carbó, Nicolás

;

Tortosa Gil, Carlota

;

González Siguero, Roberto

(

Universidade da Coruña

,

2018

)

[Resumen] El libro reúne las ponencias y experiencias empresa presentadas, además de las conclusiones aprobadas, en las 23 Jornadas de Archivos Universitarios, celebradas entre el 21 y 23 de junio de 2017 en A Coruña. Las ...

Jove, Daniel

(

Universidade da Coruña

,

2021-12-08

)

[Resumen] El uso de ingenios tecnológicos, su capacidad disruptiva y condicionante de la vida en sociedad son las notas caracterizadoras de la era digital. Junto a las indudables ventajas y comodidades que los avances ...

Mecheba Molongua, Jessica

(

2016

)

[Resumen]: En este estudio se analiza la moneda digital Bitcoin, moneda descentralizada que goza de mayor popularidad en la actualidad, sus características más técnicas y sus implicaciones como moneda en un mundo globalizado. ...