The Social Value of Heritage: Balancing the Promotion-Preservation Relationship in the Altamira World Heritage Site, Spain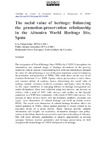 Except where otherwise noted, this item's license is described as Atribución-NoComercial-SinDerivadas 4.0 Internacional
Title
The Social Value of Heritage: Balancing the Promotion-Preservation Relationship in the Altamira World Heritage Site, Spain
Date
2020
Citation
Parga-Dans, E., González, P., & Enríquez, R. (2020). The social value of heritage: Balancing the promotion-preservation relationship in the Altamira World Heritage Site, Spain. Journal Of Destination Marketing & Management, 18, 100499. https://doi.org/10.1016/j.jdmm.2020.100499
Abstract
[Abstract] The designation of World Heritage Sites (WHSs) by UNESCO strengthens the international and national image of heritage destinations in the growing market of cultural tourism. Understanding how different stakeholders interpret the value of cultural heritage is one of the most important assets for balancing the promotion and protection of WHSs. This study draws on the case of the Altamira Prehistoric Cave WHS (Spain), whose preservation is under threat and constant debate. It explores factors determining the social value of heritage, namely: existence, aesthetic, economic, and legacy value. In doing so, this paper contributes to emerging debates on heritage management and tourist destinations. Data were collected using two surveys, one focused on visitors, with a total of 1047 valid surveys, and another on the Spanish population as a WHS host community, with a total of 1000 valid surveys. The analysis of these surveys shows how the existence, aesthetic, economic and legacy value dimensions of cultural heritage can build up brands around WHSs. The social-value dimension of cultural heritage therefore affects the market potential of WHSs, whose market potential is closely related to the education levels of a given society. These findings provide valuable information and insights for academics, destination managers and policy-makers in the debate about the preservation and tourism branding of Altamira. This will allow different stakeholders to identify opportunities to develop synergies between tourism promotion and heritage preservation, to both strengthen the brand image of a WHS and preserve its heritage.
Keywords
Social value
Altamira world heritage site
Heritage tourism
Heritage preservation
Destination branding
Tourism destination
Description
Versión Post-Print de: Journal Of Destination Marketing & Management, 18, 100499. https://doi.org/10.1016/j.jdmm.2020.100499
Editor version
Rights
Atribución-NoComercial-SinDerivadas 4.0 Internacional
ISSN
2212-571X
Related items
Showing items related by title, author, creator and subject.
Schreinmoser, Christoph R.

(

Universidade da Coruña

,

2022-12-14

)

[Resumen] Este año se cumple el quincuagésimo aniversario de la Convención para la Protección del Patrimonio Mundial Cultural y Natural, adoptada el 16 de noviembre de 1972. En sus cincuenta años de existencia, la Convención ...

Fernández Domínguez, Isabel

;

López Pérez, María Antonia

(

Universidade da Coruña

,

2011

)

[Resumo] Galicia está bañada polo mar ao longo de 1200 km. Non é de extrañar entón que a pesca sexa a base da súa economía, chegando a constituir ata o 52% do emprego total pesqueiro en España e ata o 10% no conxunto da ...

Gontareva, E.F.

;

Ansari, M.K.

;

Ruban, D.A.

;

Ahmad, M.

;

Singh, T.N.

(

Universidade da Coruña

,

2015

)

[Abstract]International development for the both geoconservation and geotourism requires attention to all kinds of (potential) geological heritage. The Ajanta Caves (western Maharashtra, India) is a famous cultural object ...