Intuición, razón y cálculo en el análisis estructural en la bóveda de crucería de la capilla de San Antonio en Candás (Asturias)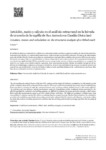 View/Open
Title
Intuición, razón y cálculo en el análisis estructural en la bóveda de crucería de la capilla de San Antonio en Candás (Asturias)
Alternative Title(s)
Intuition, reason and calculation on the structural analysis of a ribbed vault
Author(s)
Date
2015
Citation
Suárez, F. (2015). Intuición, razón y cálculo en el análisis estructural en la bóveda de crucería de la capilla de San Antonio en Candás (Asturias). Informes de la Construcción, 67(540): e122, doi: http://dx.doi.org/10.3989/ic.14.100.
Abstract
[Resumen] El análisis de sistemas constructivos tradicionales está comenzando a confiarse a potentes medios de simulación numérica. La precisión de cálculo y su expresividad visual son un reclamo al que resulta difícil sustraerse. El empleo de estos medios no puede olvidar el hecho de que estos sistemas constructivos y sus materiales constituyentes resultan difícilmente evaluables desde conceptos elásticos, convirtiéndose en sistemas hiperestáticos de orden creciente. El desmontaje de la bóveda de crucería de una capilla del siglo XVI ha permitido conocer con precisión esa serie de factores geométricos y de composición material que tantas veces resultan simples supuestos. Este conocimiento permite abordar un análisis comparado de las diferentes metodologías empleadas a lo largo de la historia. Analizar los resultados de las arcaicas razones de proporción geométrica, con metodologías como las de rigidez elástica o las de equilibrio fundamental, ha determinado que todas ellas lejos de ser excluyentes resultan complementarias.
[Abstract] The dismantling of a simple chapel of the late XVI century and the study of its formal constitution are the starting point of this analytical study of the structural design criteria. This course will compare the fundamentals of each methodology, from a geometric concept, through the concept of balance and reaching analysis methods based on the elastic stiffness. The precision of FEM software and its visual power cause the forgetfulness of the traditional design parameters. We often forget that the materials and building systems are difficult to evaluate by means of elastic concepts, which makes them statically indeterminate systems of order which change with time. The different analytical methods mean that none of them is exclusive against the others as actually they are complementary. The fact that sometimes the calculation precision of establishing a particular stress state cannot make us forget that the existence of a historic construction which has been able to find a working mechanism, will have had its starting point in a formal design, far from the necessity of accuracy.
Keywords
Construcción tradicional
Bóveda de crucería
Estabilidad
Análisis
Reglas proporcionales
Traditional construction
Ribbed vault
Stability
Analysis
Proportional rules
Editor version
Rights
Atribución-NoComercial 3.0 España
ISSN
0020-0883