La música tradicional gallega como elemento constructor de identidades: la gaita como símbolo identitario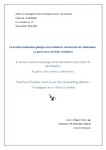 View/Open
Title
La música tradicional gallega como elemento constructor de identidades: la gaita como símbolo identitario
Alternative Title(s)
A música tradicional galega como elemento construtor de identidades: a gaita como símbolo identitario
Traditional Galician music as an identity-building element: the bagpipe as an identity symbol

Author(s)
Directors
Pérez-Caramés, Antía
Diz, Carlos

Date
2019
Center/Dept./Entity
Universidade da Coruña. Facultade de Socioloxía
Description
Traballo fin de mestrado (UDC.SOC). Socioloxía aplicada: investigación social e de mercados. Curso 2018/2019
Abstract
[Resumen] Las sociedades y pueblos basan sus identidades en símbolos y tradiciones mediante los cuales se sienten representados. En este caso, la música tradicional gallega, su elemento considerado como representativo por excelencia, la gaita, y otros elementos, juegan un papel de suma importancia en la representación y creación de un imaginario colectivo. Los símbolos son los representantes de la cultura y tradición gallega, siendo, elementos principales de representación de identidades culturales. De la misma forma que la sociedad, la cultura y sus tradiciones se verán sometidas a los cambios fruto de la globalización, pudiendo surgir una diversidad de grupos, discursos e identidades que podrán llegar a enfrentarse por la representación de la cultura de un pueblo. Lo que se pretenderá con la presente investigación, no será realizar un estudio histórico de la tradición musical gallega, sino analizar cómo la música tradicional y sus símbolos se constituyen como un elemento generador de identidades, y discursos, y cómo estos resisten y afrontan posibles cambios en su entorno.
[Resumo] As sociedades e os pobos basean as súas identidades nos símbolos e tradición mediante os cales se senten representados. Neste caso, a música tradicional galega, e o seu elemento considerado como representativo por excelencia, a gaita, e outros elementos, xogan un papel de suma importancia na representación e creación dun imaxinario colectivo. Os símbolos son os representantes da cultura e tradición galega, sendo, elementos de representación de identidades culturales. Da mesma forma que a sociedade, a cultura e as súas tradicións veranse sometidas aos cambios froito da globalización, pudendo surxir unha diversidade de grupos, discursos e identidades que poderán chegar a enfrontarse pola representación da cultura dun pobo. O que se pretenderá coa presente investigación , non será realizar un estudio histórico da tradición musical galega, se non analizar como a música tradicional e os seus símbolos constitúense como un elemento xerador de identidades, e discursos, e cómo estes resisten e afrontar posibles cambios no seu entorno.
[Abstract] Societies and peoples base their identities on symbols and traditions through which they feel represented. In this case, traditional Galician music, its element considered as representative par excellence, the bagpipe, and other elements, play a very important role in the representation and creation of a collective imaginary. The symbols are the representatives of the Galician culture and tradition, being, main elements of representation of cultural identities. In the same way that society, culture and its traditions will be subject to the changes resulting from globalization, and a diversity of groups, discourses and identities may arise that can be confronted by the representation of the culture of a people. What we intend with the present investigation, will not be to conduct a historical study of the Galician musical tradition, but to analyze how traditional music and its symbols are constituted as a generator of identities, and discourses, and how they resist and face possible changes in your enviroment.
Keywords
Gaita
Galicia
Identidad
Tradición
Identidade
Bagpipe
Identity
Tradition
Rights
Os titulares dos dereitos de propiedade intelectual autorizan a visualización do contido deste traballo a través de Internet, así como a súa reproducción, gravación en soporte informático ou impresión para o seu uso privado e/ou con fins de estudo e de investigación. En nengún caso se permite o uso lucrativo deste documento. Estos dereitos afectan tanto ó resumo do traballo como o seu contido Los titulares de los derechos de propiedad intelectual autorizan la visualización del contenido de este trabajo a través de Internet, así como su repoducción, grabación en soporte informático o impresión para su uso privado o con fines de investigación. En ningún caso se permite el uso lucrativo de este documento. Estos derechos afectan tanto al resumen del trabajo como a su contenido