Natural Language Parsing : Progress and Challenges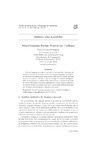 Title
Natural Language Parsing : Progress and Challenges
Author(s)
Date
2018-07
Center/Dept./Entity
FASTPARSE Lab. LyS Research Group. Depto. de Computación. Facultade de Informática, Elviña.
Citation
Carlos Gómez-Rodríguez. Natural Language Parsing: Progress and Challenges. Boletín de Estadística e Investigación Operativa, 34(2):159-175, 2018. ISSN 1889-3805.
Abstract
[Abstract] Natural language parsing is the task of automatically obtaining the syntactic structure of sentences written in a human language. Parsing is a crucial step for language processing systems that need to extract meaning from text or speech, and thus a key technology of artificial intelligence. This article presents an outline of the current state of the art in this field, as well as reflections on the main challenges that, in the author's opinion, it is currently facing: limitations in accuracy on especially difficult languages and domains, psycholinguistic adequacy, and speed.
Keywords
Natural language parsing
Syntax
Artificial intelligence
Rights
La licencia general de la revista BEIO no es de acceso abierto, pero al acordar la publicación de este artículo se concedió permiso para publicar el texto final del artículo en acceso abierto en el RUC, cumpliendo así con los requisitos de la UE/Horizon 2020 respecto a acceso abierto.
ISSN
1889-3805