Salvador Dalí: una aproximación sociológica a su obra y figura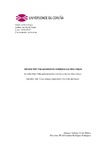 Title
Salvador Dalí: una aproximación sociológica a su obra y figura
Alternative Title(s)
Salvador Dalí: unha aproximación sociolóxica da súa obra e figura
Salvador Dalí: a sociological approach to his work and figure

Author(s)
Directors
Rodríguez-Rodríguez, Carmen
Date
2017
Center/Dept./Entity
Universidade da Coruña. Facultade de Socioloxía
Description
Traballo fin de grao (UDC.SOC). Socioloxía. Curso 2016/2017
Abstract
[Resumen] El siguiente trabajo propone una aproximación sociológica exploratoria a la obra y figura de Salvador Dalí. Se trata de uno de los artistas más polifacéticos del siglo XX, que participó del movimiento vanguardista y que utilizó la televisión como medio para darse a conocer. Concretamente esta investigación intentará analizar la influencia del contexto social y político en su producción artística, la relación que establece con los medios de comunicación y la huella que este artista ha dejado. Para ello se llevará a cabo una revisión bibliográfica y un análisis cualitativo, constituido por entrevistas en profundidad, una observación sociológica en su Teatro-Museo en Figueres y un análisis de contenido de algunas de sus apariciones televisivas.
[Resumo] O seguinte traballo propón unha aproximación sociolóxica exploratoria á obra e a figura de Salvador Dalí. Trátase dun dos artistas máis polifacéticos do século XX, que participou do movemento vangardista e que utilizou a televisión como medio para darse a coñecer. Concretamente esta investigación intentará analizar a influencia do contexto social e político na súa obra, a súa relación cos medios de comunicación e a pegada que deixou o artista. Para elo levarase a cabo unha revisión bibliográfica así como unha análise cualitativa, constituída por entrevistas en profundidade, unha observación sociolóxica no seu Teatro-Museo en Figueres e unha análise de contido dalgunhas das súas aparicións televisivas.
[Abstract] The present dissertation purposes an exploratory sociological approach to the work and figure of Salvador Dali. He is considered one of the most multifaceted artists of the XX century, who participated in the vanguard movement and used the television media to become popular. Specifically, this research will try to analyze the influence that the historical and political context generated in his artistic productions, the relationship with the media and the mark Dali left. In order to achieve my aim, a revision of the bibliography and a qualitative analysis will be done, constituted by deep interviews, a sociological observation of his theatre-museum in Figueres and an analysis of the content of some tv apparitions.
Keywords
Sociología del arte
Salvador Dalí
Contexto político y social
Televisión
Socioloxía da arte
Contexto político e social
Sociology of arts
Social and political context
Television
Rights
Os titulares dos dereitos de propiedade intelectual autorizan a visualización do contido deste traballo a través de Internet, así como a súa reproducción, gravación en soporte informático ou impresión para o seu uso privado e/ou con fins de estudo e de investigación. En nengún caso se permite o uso lucrativo deste documento. Estos dereitos afectan tanto ó resumo do traballo como o seu contido Los titulares de los derechos de propiedad intelectual autorizan la visualización del contenido de este trabajo a través de Internet, así como su repoducción, grabación en soporte informático o impresión para su uso privado o con fines de investigación. En ningún caso se permite el uso lucrativo de este documento. Estos derechos afectan tanto al resumen del trabajo como a su contenido