La adopción del budismo en Galicia: religión, cultura y vida cotidiana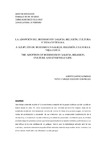 Except where otherwise noted, this item's license is described as Atribución-NoComercial-CompartirIgual 3.0 España
Title
La adopción del budismo en Galicia: religión, cultura y vida cotidiana
Alternative Title(s)
A adopción do budismo en Galicia: relixión, cultura e vida cotiá
The adoption of buddhism in Galicia: religion, culture and everyday life

Author(s)
Directors
Couceiro, Enrique
Date
2017
Center/Dept./Entity
Universidade da Coruña. Facultade de Socioloxía
Description
Traballo fin de grao (UDC.SOC). Socioloxía. Curso 2016/2017
Abstract
[Resumen] Este trabajo pretende estudiar el funcionamiento y creación de los grupos budistas que han surgido en Galicia desde los años 70, como consecuencia de una creciente pluralización religiosa dada en las sociedades modernas. Concretamente, se trata de conocer la forma en que estos surgen, así como los modos de participación y conversión de sus miembros, con su consecuente transformación de la percepción y la conducta en la vida cotidiana y las relaciones personales. La intención pues, es intentar entender mejor los procesos sociales que hacen que el budismo se asiente en Galicia y la forma en la que este influye en la vida cotidiana de los gallegos. Para lo cual, la metodología utilizada será de tipo cualitativa, basada en entrevistas en profundidad realizadas entre los responsables de los colectivos que se encuentran distribuidos por diferentes ciudades gallegas.
[Resumo] Este traballo pretende estudar o funcionamento e creación dos grupos budistas que xurdiron en Galicia dende os anos 70, como consecuencia dunha crecente pluralización relixiosa dada nas sociedades modernas. Concretamente, tratase de coñecer a forma na que estos xorden, así coma os modos de participación e conversión dos seus membros, coa sua consecuente transformación da percepción e a conducta da vida cotiá e nas relacións persoais. A intención entón, e intentar entender mellor os procesos sociais que fan que o budismo se asente en Galicia e a forma na que este influe na vida cotiá dos galegos. Para isto, a metodoloxía utilizada será de tipo cualitativo, baseada en entrevistas en profundidade realizadas entre os responsables dos colectivos que se atopan distribuídos por diferentes cidades galegas.
[Abstract] The aim of this research is the study of the creation and development of Buddist's groups started in Galicia since the 70's, as a consequence of an increasing religious 'pluralization' in modern societies. More concretely, it is focused on how they were made, as well as the types of its members' participation and 'conversion' and the transformation of the everyday life and personal relationships' perception and behaviour. So the objective is trying to achieve a better understanding of these social processes that settled Buddism in Galicia and the way how they are an influence in the lifes of Galician people. In order to achieve this aim, the chosen methodology will be of qualitative type, based on in-depth interviews conducted among those group coordinators spread out by different Galician cities.
Keywords
Budismo
Religión
Galicia
Relixión
Buddhism
Religion
Rights
Atribución-NoComercial-CompartirIgual 3.0 España