La histórica de R. Koselleck y la apertura de la historia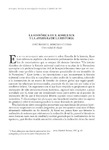 View/Open
Collections
Title
La histórica de R. Koselleck y la apertura de la historia
Author(s)
Date
2008
Citation
Conceptos revista de investigación graciana, 5: 91-103 ISSN 1697-2775
Abstract
[Resumen] La Histórica de R. Koselleck, en tanto que teoría transcendental de la historia, postula una serie de categorías como condiciones de posibilidad de toda historia posible. En el presente artículo se reflexiona sobre si la elección por parte de Koselleck de las categorías que poseerían tal estatuto transcendental implica una restricción de la experiencia histórica de lo posible. Como contraste, se exponen otros modos de concebir la historia que se pretenden críticos, en el sentido de que aspiran a promover una apertura de la historia, como es el caso de las concepciones de F. Nietzsche y W. Benjamin. Finalmente, se propone la posibilidad de que la Histórica se enfrente a un dilema teórico que afectaría a su misma pretensión transcendental.
[Sommaire] La conception historique de R. Koselleck, en tant que théorie transcendantale de l'histoire, comprend une série de catégories comme conditions de possibilité de l'histoire possible. Le présent article consiste en une réflexion sur la justesse de ces catégories qui, selon Koselleck, ont un statut transcendantal: impliquent-elles une restriction de l'expérience historique du possible? Comme contraste, j'expose d'autres manières de concevoir l'histoire – en particulier de F. Nietzsche et W. Benjamin -, qui se prétendent critiques et ainsi favoriser un ouverture de l'histoire. Finalement, il est possible que la conception historique de Koselleck affronte un dilemme théorique, qui affecterait sa propre prétention transcendantale.
[Abstract] His conception of history being a transcendental theory of history, R. Koselleck postulates a series of categories as conditions of possibility of history as such. The present article is a reflection about the pertinence of these categories, which would possess a transcendental status: The central question is if they restrict the historical experience of the possible. In contrast, two other ways of conceiving history pretended as critical, are exposed. The theories of both F. Nietzsche and W. Benjamin aimed at an opening of history. Finally, it is argued that Koselleck´s conception of history possibly confronts a theoretical dilemma which would affect its own transcendental pretension.
Keywords
Historial conceptual
Filosofía de la historia
Transcendental
Koselleck
Histoire conceptuelle
Philosophie de l'histoire
Koselleck
Conceptual history
Philosophy of history
Koselleck
ISSN
1697-2775