Sabiduría conversable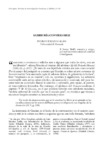 View/Open
Collections
Title
Sabiduría conversable
Author(s)
Date
2006
Citation
Conceptos revista de investigación graciana 2006, 3: 11-31 ISSN: 1697-2775
Abstract
[Resumen] El artículo estudia la relación entre la sabiduría y la conversación ("sabiduría conversable") como clave de lectura de la obra de Gracián. La primacía de la conversación en la cultura cortesana y como medio formativo, la reflexión y la intersubjetividad dialógicas son los elementos analizados que permiten entender la "sabiduría conversable" como un rasgo epistémico que penetra toda la vida, puesto que concierne a la puesta en práctica de los sistemas de usos de reglas e instituciones que posibilitan la convivencia.
[Sommaire] L'article étudie la relation entre la sagesse et la conversation ("une sagesse conversable") comme clé de lecture de l'oeuvre de Gracián. La primauté de la conversation dans la culture courtoise et comme milieu formatif, la réflexion et l'intersubjectivité dialogiques sont les éléments analysés qui permettent d'entendre la "sagesse conversable" comme un trait épistémique qui pénètre toute la vie puisqu'elle concerne à la mise en pratique des systèmes d'usages de règles et d'institutions qui facilitent la vie en commun.
[Abstract] The article studies the relation between the wisdom and the conversation ("dialogic wisdom") as a key-concept when reading Gracián's work. The primacy of the conversation in the court culture and as formative way, the reflection and the dialogic intersubjectivity are the elements analyzed here that allow us to understand the "dialogic wisdom" as an epistemic feature that penetrates life as a whole insofar as it underlies the systems of usage of rules and institutions that facilitate human coexistence.
Keywords
Baltasar Gracián
Siglo de Oro
Humanismo
Sabiduría
Conversación
Baltasar Gracián
Siècle d'Or espagnol
Humanisme
Sagesse
Conversation
Baltasar Gracián
Spanish Golden Age
Humanism
Wisdom
Conversation
ISSN
1697-2775