Elaboración del proyecto : efecto de los factores abióticos en "Octopus vulgaris" (Cuvier 1797)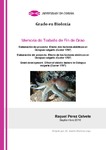 Title
Elaboración del proyecto : efecto de los factores abióticos en "Octopus vulgaris" (Cuvier 1797)
Alternative Title(s)
Elaboración do proxecto : efecto dos factores abióticos en "Octopus vulgaris" (Cuvier 1797)
Grant development : effect of abiotic factors in "Octopus" vulgaris (Cuvier 1797)

Author(s)
Directors
Martínez Lage, Andrés
Date
2016
Center/Dept./Entity
Universidade da Coruña. Facultade de Ciencias
Description
Traballo fin de grao (UDC.CIE). Bioloxía. Curso 2015/2016
Abstract
[Resumen:] El pulpo es una de las especies de cefalópodo con más interés comercial. Así en la costa gallega las lonjas nos muestran que durante el 2015 se han extraido 1.769.660,19Kg de pulpo, lo que supone un total de 10.211.476,29€. En base a esto, el objetivo fundamental del proyecto es obtener más información sobre la posibilidad de criar pulpos en cautividad, de cara a una mayor producción en un futuro próximo. Realizaremos varias pruebas que nos mostrarán el efecto de factores como la densidad de población y la alimentación en el crecimiento de los individuos. Veremos también si recreando las condiciones ambientales de invierno y verano los pulpos se desarrollan igual en cautividad. Realizaremos también un análisis bioquímico comparativo entre los individuos salvajes y los individuos en cautividad y estudiaremos la expresión de los genes de estrés con la realización de q-PCRs.
[Resumo:] O polbo é unha das especies de cefalópodos con máis interese comercial. Así, na costa de Galicia mercados de peixe mostran que en 2015 foron extraídos 1.769.660,19Kg de polbo, representando un total de 10.211.476,29 €. Con base niso, o obxectivo fundamental do proxecto é para aprender máis sobre a posibilidade de aumentar o polbo en catividade, de cara a unha maior produción no futuro próximo. Imos facer varias probas que amosará o efecto de factores tales como alimentación ou densidade poboacional no crecemento dos individuos. Tamén veremos se recreando as condicións ambientais de inverno e verán se desenvolven do mesmo xeito os polbos en catividade. Faremos unha análise bioquímica comparativa entre os individuos salvaxes e os individuos en catividade e estudaremos a expresión de xenes de estrés coa realización de Q-PCRs.
[Abstract:] The octopus is an cephalopod species with more commercial interests. So on the Galician coast fish markets show that during 2015 have been extracted 1.769.660,19Kg octopus, representing a total of 10.211.476,29 €. Based on this, the fundamental objective of the project is to obtain more information about the possibility of raising octopus in captivity, facing higher production in the near future. We will make several tests that will show the effect of factors such as population density and the food in the growth of individuals. We will also see if recreating the environmental conditions of winter and summer alike develop octopuses in captivity. We will also make a comparative biochemical analysis between wild individuals and individuals in captivity and study the expression of stress genes with conducting some q-PCRs.
Keywords
q-PCR
Crecimiento
Cefalópodo
Eurihalina
Crecemento
Growth
Cephalopod
Rights
Os titulares dos dereitos de propiedade intelectual autorizan a visualización do contido deste traballo a través de Internet, así como a súa reproducción, gravación en soporte informático ou impresión para o seu uso privado e/ou con fins de estudo e de investigación. En nengún caso se permite o uso lucrativo deste documento. Estos dereitos afectan tanto ó resumo do traballo como o seu contido Los titulares de los derechos de propiedad intelectual autorizan la visualización del contenido de este trabajo a través de Internet, así como su repoducción, grabación en soporte informático o impresión para su uso privado o con fines de investigación. En ningún caso se permite el uso lucrativo de este documento. Estos derechos afectan tanto al resumen del trabajo como a su contenido