A influencia do diágnóstico da enfermidade mental na vida social dos individuos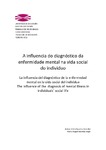 View/Open
Title
A influencia do diágnóstico da enfermidade mental na vida social dos individuos
Alternative Title(s)
La influencia del diagnóstico de la enfermedad mental en la vida social del individuo
The influence of the diagnosis of mental illness in individuals´ social life

Author(s)
Directors
Martínez Buján, Raquel
Date
2016
Center/Dept./Entity
Universidade da Coruña. Facultade de Socioloxía
Description
Traballo fin de grao (UDC.SOC). Socioloxía. Curso 2015/2016
Abstract
[Resumen] Este trabajo de fin de grado tiene por objetivo analizar cómo los procesos de salud-enfermedad afectan en la integración del individuo en la sociedad. El colectivo de estudio son las personas que sufren una enfermedad mental y están acudiendo a la asociación "A Creba". Se pretende, mediante las técnicas cualitativas de la observación participante y entrevistas semiestruturadas, averiguar el rol que desempeña la red familiar, la red de amistad, la asociación y el estado a la hora de integrar en la sociedad a este colectivo.
[Resumo] Este traballo de fin de grao, ten por obxectivo analizar cómo os procesos de saúde-enfermidade afectan na integración do individuo na sociedade. O colectivo de estudo son as persoas que sofren unha enfermidade mental e están acudindo a asociación " A Creba". Preténdese, mediante técnicas cualitativas da observación participante e entrevistas semiestruturadas, averiguar o rol que desempeñan a rede familiar, a rede de amizade, a asociación e o estado á hora de integrar na sociedade a este colectivo.
[Abstract]The purpose of this final project work is to analyze how the health-disease processes affect the individual´s integration into society. The group of study are those suffering from mental illness and are turning to "A Creba" association. It is intended by the qualitative techniques of participant observation and semi-structured interviews to find out the role played by the family network, the network of friends, the association and the state in integrating into society this group.
Keywords
Enfermidade mental
Integración
Familia
Asociación
Sociedad
Amizade
Enfermedad mental
Amistad
Mental illness
Integration
Family
Association
Society
Friendship
Rights
Os titulares dos dereitos de propiedade intelectual autorizan a visualización do contido deste traballo a través de Internet, así como a súa reproducción, gravación en soporte informático ou impresión para o seu uso privado e/ou con fins de estudo e de investigación. En nengún caso se permite o uso lucrativo deste documento. Estos dereitos afectan tanto ó resumo do traballo como o seu contido Los titulares de los derechos de propiedad intelectual autorizan la visualización del contenido de este trabajo a través de Internet, así como su repoducción, grabación en soporte informático o impresión para su uso privado o con fines de investigación. En ningún caso se permite el uso lucrativo de este documento. Estos derechos afectan tanto al resumen del trabajo como a su contenido