Estudio epidemiológico de la patología podológica en la edad escolar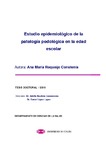 Title
Estudio epidemiológico de la patología podológica en la edad escolar
Author(s)
Directors
Casasnovas, Adolfo Bautista
López López, Daniel

Date
2015
Center/Dept./Entity
Universidade da Coruña. Departamento de Ciencias de la Salud
Abstract
[Resumen] Objetivos: Conocer la prevalencia de las alteraciones podológicas en una muestra aleatoria de una población escolar de niños de edades comprendidas entre los 3 y los 14 años. Determinar la influencia de dimensiones específicas que pueden afectar a la salud del pie (dolor, función del pie, calzado, salud del pie) y dimensiones de la salud a nivel general (salud general, vitalidad, función social, actividad física). Material y métodos: Estudio observacional descriptivo en que la selección de los sujetos de estudio se realizó por muestreo no probabilístico de tipo consecutivo (A Estrada, Pontevedra, n = 130 escolares). Después de la firma del consentimiento informado se midieron variables antropométricas, actividad física, examen podológico, determinantes de la salud y la calidad de vida relacionada con la salud del pie. Análisis descriptivo de las variables incluidas en el estudio y las variables cualitativas se presentan como valores absolutos y porcentl\Íes. Resultados: El pie plano está presente en el 46,15% de los escolares y las c1inodactilias en un 51,54%. Un 16% presentaba hiperhidrosis. No se objetiva correlación significativa de la calidad de vida con el tipo de arco del pie presentado, ni tampoco entre el peso y las alteraciones podológicas. Conclusiones: Existe una prevalencia media de patología podo lógica que se modifica con la edad y sexo. Teniendo en cuenta los resultados se pone de manifiesto la necesidad de implementar programas de promoción para la salud del pie y seguir investigando en esta condición.
[Resumo] Obxectivos: Coñecer a prevalencia de trastornos podolóxicos nunha mostra aleatoria dunha poboación escolar de nenos con idades entre os 3 e 14 anos. Determinar a influencia de dimensións específicas que poden afectar á saúde do pé (dor, función de pé, calzado, saúde do pé) e dimensións da saúde a nivel xeral (saúde xeral, vitalidade, función social, actividade fisica). Material e métodos: Estudo observacional descritivo en que a selección dos suxeitos do esmdo realizouse por muestreo non probabilístico de tipo consecutivo (A Estrada, Pontevedra, n = 130 escolares). Despois da firma do consentimento informado medíronse variables antropométricas, actividade fisica, exame podolóxico, determinantes da saúde e a calidade de vida relacionada coa saúde do pé. Análise descritivo das variables incluídas no estudo e as variables cualitativas preséntanse como valores absolutos e porcentaxes. Resultados: O pé plano está presente no 46,15% dos escolares e as clinodactilias nun 51,54%. Un 16% presentaba hiperhidrose. Non se obxectiva correlación significativa da calidade de vida co tipo de arco do pé presentado, nin tampouco entre o peso e as alteracións podolóxicas. Conclusións: Existe unha prevalencia media de patoloxía podolóxica que se modifica coa idade e o sexo. Tendo en conta os resultados ponse de manifesto a necesidade de implementar programas de promoción para a saúde do pé e seguir investigando nesta condición.
[Abstract] Aims: To determine the prevalence ofpodiatric pathology in a random sample of a sehool population of ehildren aged between 3 and 14 years. To determine the influence of specific dimensions that may afTect foot health (pain, foot function, footwear foot health) and dimensions of health across the board (general health, vitality, social function, physical activity). Methods: Descriptive observational study in which the selection of study subjects was conducted by non-probabilistic consecutive sampling type (A Estrada, Pontevedra, n = 130 schools). Afier signing the informed consent, anthropometric variables, physical activity, podiatry examination, determinants of health and quality of !ife related to foot health they were measured. Descriptive analysis ofthe variables included in the study and qualitative variables are presented as absolute values and percentages. Results: The flat foot is present in 46.15% ofschoolchildren and a 51.54% clinodactilias. 16% had hyperhidrosis. No significant correlation objective quality of life with the kind of arch presented, nor between weight and podiatric disorders. Conclusions: The mean prevalence of podiatric pathology changes with age and sexo Considering the results highlights the need to implement programs to promote foot health and further research into this condition.
Keywords
Pie-Enfermedades-Tratamiento
Biomecánica-Casos, Estudios de
Podología pediátrica
Rights
Os titulares dos dereitos de propiedade intelectual autorizan a visualización do contido desta tese a través de Internet, así como a súa reproducción, gravación en soporte informático ou impresión para o seu uso privado e/ou con fins de estudo e de investigación. En nengún caso se permite o uso lucrativo deste documento. Estos dereitos afectan tanto ó resumo da tese como o seu contido Los titulares de los derechos de propiedad intelectual autorizan la visualización del contenido de esta tesis a través de Internet, así como su repoducción, grabación en soporte informático o impresión para su uso privado o con fines de investigación. En ningún caso se permite el uso lucrativo de este documento. Estos derechos afectan tanto al resumen de la tesis como a su contenido