Evaluación de la percepción de empatía terapéutica en una muestra de sujetos de edad avanzada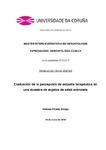 Collections
Title
Evaluación de la percepción de empatía terapéutica en una muestra de sujetos de edad avanzada
Alternative Title(s)
Evaluation of the perception of therapeutic empathy in a sample of elderly subjects
Author(s)
Directors
García Fernández, Jorge
Date
2015-01-16
Center/Dept./Entity
Universidade da Coruña. Facultade de Ciencias da Saúde
Description
Traballo fin de mestrado (UDC.FCS). Xerontoloxía. Curso 2014/2015.
Abstract
[Resumen] Introducción: Las habilidades de comunicación constituyen una de las competencias más importantes de los profesionales del ámbito de la salud, ya que es la herramienta más utilizada en el trabajo diario y el medio que hace posible el desarrollo de otras muchas funciones. Objetivo: Estudiar las posibles diferencias en la percepción de las habilidades empáticas de escucha activa del profesional sanitario, por parte de la población de edad avanzada. Metodología: Se diseñó un estudio con dos grupos, uno de personas de edad menor o igual a los 40 años (n=30) y otro de edad mayor o igual a los 65 años (n=30). Los sujetos visualizaron dos vídeos sobre una entrevista con diferente nivel de competencias en escucha activa. Se administró la escala REM a los sujetos para evaluar su percepción de empatía del profesional sanitario. Resultados: Las puntuaciones en el grupo de mayor edad presentan una tendencia hacia un mayor grado de empatía. Este mismo comportamiento también se observa en el sexo femenino. Sin embargo, dichas diferencias no resultan estadísticamente significativas en ninguno de los casos. Conclusiones: No se puede afirmar la existencia de aspectos diferenciales en la percepción de empatía en las personas mayores al menos en lo que respecta a las condiciones de evaluación empleadas en este trabajo. La realización de nuevos estudios, especialmente con otras técnicas de evaluación, permitiría incrementar conocimientos de cara a posibilitar ajustes en los aspectos comunicativos aplicados a contextos sanitarios sobre personas de mayor edad.
[Abstract] Introduction: Communication skills are one of the most important abilities of professionals in the field of health as it´s both the most used tool in the daily work and the environment that makes possible the effective development of many other capabilities. Objective: To study the possible differences in perception of empathic skills of active listening of health professionals by elderly population. Methods: The study was designed with two groups, one with people that have less than or equal to 40 years (n = 30) and another aged greater than or equal to 65 years (n = 30). The subjects visualized two videos of an interview between a therapist and an user with different levels of skills in active listening. REM scale assessment of perceived empathy healthcare professional has been administered. Results: Scores in the older age group have a tendency towards a higher degree of empathy. The same behavior is also observed in females. However, these differences are not statistically significant in any case. Conclusions: It´s not possible to affirm the existence of differential aspects in the perception of empathy in older people, at least, regarding to test conditions used in this work. New studies, especially with other evaluation techniques, would help to increase knowledge allowing adjustments to the communicative aspects applied to health care settings for older people.
Keywords
Habilidades de comunicación
Escucha activa
Empatía
Personas mayores
Profesionales de la salud
Communication skills
Active listening
Empathy
Older people
Healthcare professionals
Rights
Os titulares dos dereitos de propiedade intelectual autorizan a visualización do contido deste traballo a través de Internet, así como a súa reproducción, gravación en soporte informático ou impresión para o seu uso privado e/ou con fins de estudo e de investigación. En nengún caso se permite o uso lucrativo deste documento. Estos dereitos afectan tanto ó resumo do traballo como o seu contido Los titulares de los derechos de propiedad intelectual autorizan la visualización del contenido de este trabajo a través de Internet, así como su repoducción, grabación en soporte informático o impresión para su uso privado o con fines de investigación. En ningún caso se permite el uso lucrativo de este documento. Estos derechos afectan tanto al resumen del trabajo como a su contenido