Papel del profesional de enfermería en un centro de día gerontológico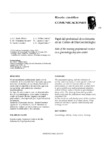 Title
Papel del profesional de enfermería en un centro de día gerontológico
Alternative Title(s)
Role of the nursing professional worker in a gerontology day care center
Author(s)
Date
2000
Citation
Buide Illobre AM, Fernández Romero EM, Varela González N, Millán Calenti JC, Gandoy Crego M, Mayán Santos JM. Papel del profesional de enfermería en un centro de día gerontológico. Gerokomos. 2000;11(3):133-137.
Abstract
[Resumen] El envejecimiento poblacional, junto con la evolución de la sociedad, hace necesario que para mantener al anciano en su entorno habitual se creen centros específicos de atención, que a la vez permitan una asistencia correcta e interdisciplinar. Un tipo de estos centros, son los denominados de día gerontológicos, a los cuales el anciano acude en horario diurno, jugando un papel primordial el desempeño por el profesional de enfermería. Mediante el presente trabajo, desarrollaremos alguna de las actividades que el enfermero/a deberá de realizar en estos centros con marcado carácter rehabilitador y de cuidados.
[Abstract] The population ageing, and the evolution of society, makes necessary to create specific centers of attention, in order yo keep the olders in their environment, at the same time to allow them to get a suitable and multiprofessional attention. A kind of these centers is known as gerontological daily centers. The elders go home during certain hours a day, and the professional nurse plays a very important role. In this article we will develop some of the activities that the patient should be have a specific rehabilitating and nursing caracter.
Keywords
Gerontología
Anciano
Centros de día
Enfermería
Papel profesional
Gerontology
Elderly
Daily centers
Nursing