Análisis comparativo del comportamiento del BCE y la Fed. : estudio de posibles asimetrías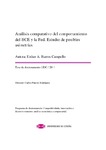 Title
Análisis comparativo del comportamiento del BCE y la Fed. : estudio de posibles asimetrías
Author(s)
Directors
Pateiro Rodríguez, Carlos
Date
2014
Center/Dept./Entity
Universidade da Coruña. Departamento de Análise Económica e Administración de Empresas
Abstract
[Resumen] En la tesis doctoral que aquí presentamos realizamos una profunda revisión de la literatura existente sobre reglas de política monetaria, tanto lineales como asimétricas. Decimos que existe asimetría en el comportamiento del banco central si su reacción es de intensidad diferente cuando las desviaciones respecto de los objetivos de inflación y output son positivas frente a la respuesta dada ante desviaciones negativas. Dichas asimetrías, si existen, tienen su origen: i) en una función de preferencias del banco central asimétrica, ii) en una curva de Phillips convexa o iii) en ambas. En la parte empírica contrastamos si el BCE y la Reserva Federal, cuando utilizan su instrumento de política monetaria, adoptan un comportamiento asimétrico en función de las desviaciones de la inflación y del output. Se utiliza el método de los momentos generalizado (MMG) con datos trimestrales. Además, introducimos en el análisis variables exógenas al modelo que pudieron haber influido en las decisiones de política monetaria adoptadas por dos de las principales autoridades monetarias del mundo durante el periodo analizado: 1999-2012 para el BCE y 1966-2012 para la Reserva Federal.
[Resumo] Na tese de doutoramento que aquí presentamos facemos unha profunda revisión da literatura existente sobre regras de política monetaria, tanto lineais como asimétricas. Dicimos que o comportamento do banco central presenta asimetría se a súa reacción é de intensidade diferente cando as desviacións respecto dos obxetivos de inflación e nivel de crecemento económico son positivas frente á resposta dada ante desviacións negativas. Estas asimetrías, se existen, teñen a súa orixe: i) nunha función de preferencias do banco central asimétrica, ii) nunha curva de Phillips convexa ou iii) en ambalas dúas. Na parte empírica contrastamos se o BCE e a Reserva Federal, cando empregan o seu instrumento de política monetaria, adoptan un comportamento asimétrico en función das desviacións da inflación e do nivel de producción. Empregamos o método dos momentos xeneralizado (MMG) con datos trimestrais. Además, introducimos na análise variables alleas ao modelo que puideron influir nas decisións de política monetaria adoptadas por dúas das principais autoridades monetarias do mundo durante o periodo mostral 1999-2012 para o BCE e 1966-2012 para a Reserva Federal.
[Abstract] In this doctoral thesis we have done a deep review of the existent literature on rules of monetary policy, so much linear as asymmetric. The optimal policy is nonlinear if the policy-maker increases interest rates by a larger amount when inflation or output are above target than the amount it will reduce them when they are below target. The two sources of an asymmetric central bank´s reaction function are: i) Asymmetric preferences and/or ii) a nonlinear Phillips curve or aggregate supply curve, i.e. the short-run inflation-output trade-off may be nonlinear. We have investigated the BCE and Federal Reserve monetary policy. We search for asymmetries in the policy responses of BCE and Fed to inflation and output gaps. For it, we have used the generalized method of moments (GMM). We have used quarterly data. The analysis is conducted on eurozone data over the period 1999-2012. With reference to USA, we consider the period 1966-2012. In addition, we have included some variables exogenous to the model that may have influenced in the monetary policy decisions adopted by two of the main monetary authorities of the world.
Keywords
Política monetaria
Bancos centrales
Rights
Os titulares dos dereitos de propiedade intelectual autorizan a visualización do contido desta tese a través de Internet, así como a súa reproducción, gravación en soporte informático ou impresión para o seu uso privado e/ou con fins de estudo e de investigación. En nengún caso se permite o uso lucrativo deste documento. Estos dereitos afectan tanto ó resumo da tese como o seu contido Los titulares de los derechos de propiedad intelectual autorizan la visualización del contenido de esta tesis a través de Internet, así como su repoducción, grabación en soporte informático o impresión para su uso privado o con fines de investigación. En ningún caso se permite el uso lucrativo de este documento. Estos derechos afectan tanto al resumen de la tesis como a su contenido