La RSC en el sistema bancario gallego: el caso de la Fundación Barrié de la Maza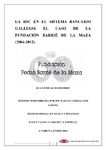 Collections
Title
La RSC en el sistema bancario gallego: el caso de la Fundación Barrié de la Maza
Author(s)
Directors
Castellanos García, Pablo
Date
2014
Center/Dept./Entity
Universidade da Coruña. Facultade de Economía e Empresa
Description
Traballo fin de mestrado (UDC.ECO). Banca e finanzas. Curso 2013/2014
Abstract
[Resumen] La presente tesis de Máster tiene por objeto el estudio de la Responsabilidad Social Corporativa (RSC) en el sector bancario. Esto conlleva el conocimiento teórico del marco general de la RSC que posteriormente aplicaremos a dicho sector, prestando especial atención al ámbito de las Cajas de Ahorro. Por último, analizaremos el caso particular de la Fundación Barrié de la Maza.
[Resumo] A presente Máster tese ten por obxeto o estudo da Responsabilidade Social Corporativa (RSC) no sector bancario. Esto conleva o coñecemento teórico do marco xeral da RSC que posteriormente aplicaremos ao devandito sector e prestaremos especial énfase ao ámbito das Caixas de Aforro. Para rematar, analizaremos o caso particular da Fundación Barrié de la Maza.
[Abstract] The objetive of this Master's thesis is to study the Corporate Social Responsibility (CSR) in the banking sector. This involves the theoretical knowledge of the CSR framework which subsequently is applied to that sector, paying special attention to the savings banks field. Finally, we discuss the particular case of the Barrié de la Maza Foundation
Keywords
Responsabilidad social corporativa
Cajas de ahorro
Estándares
Gobierno corporativo
Obra social
Responsabilidade social corporativa
Caixas de aforro
Goberno corporativo
Corporate social responsibility
Savings banks
Standars
Corporate governance
Social work
Rights
Os titulares dos dereitos de propiedade intelectual autorizan a visualización do contido deste traballo a través de Internet, así como a súa reproducción, gravación en soporte informático ou impresión para o seu uso privado e/ou con fins de estudo e de investigación. En nengún caso se permite o uso lucrativo deste documento. Estos dereitos afectan tanto ó resumo do traballo como o seu contido Los titulares de los derechos de propiedad intelectual autorizan la visualización del contenido de este trabajo a través de Internet, así como su repoducción, grabación en soporte informático o impresión para su uso privado o con fines de investigación. En ningún caso se permite el uso lucrativo de este documento. Estos derechos afectan tanto al resumen del trabajo como a su contenido
Related items
Showing items related by title, author, creator and subject.
Barbeito Torrente, Silvia

(

2016-09

)

[Resumen] Introducción: La familia es un elemento clave en el proceso de recuperación en personas con trastorno mental grave, siendo proveedora de información útil para la recuperación de la persona y proporcionando apoyo ...

Modroño Alborés, Paula

(

2019

)

[Resumen] El presente trabajo pretende realizar un análisis documental acerca de las monedas sociales dentro del contexto español, profundizando en la iniciativa de los Bancos del Tiempo en la ciudad de Vigo. En este último ...

Díaz de la Rosa, Angélica

(

Universidade da Coruña

,

2007

)

[Resumen] El presente trabajo analiza el fenómeno de las cooperativas de iniciativa social en España, tanto desde un punto de vista de Derecho estatal como autonómico. Se incide especialmente en el concepto de cooperativa ...